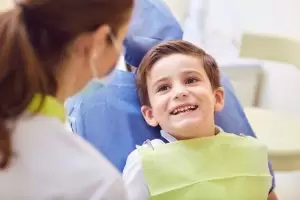 Parents who think they missed the boat by not banking their baby's cord blood may soon have another chance to save precious stem cells that may benefit their children in the future. A new report from the United States National Center for Biotechnology Information has found that baby teeth can be saved and stored for use in a wide range of medical treatments, from fighting cancer to re-growing bones, treating diabetes and repairing eyesight.
"It's still a new technology and it's not available to consumers yet, but it's coming," says Fort Collins, Colorado, dentist Dr. Allison Lesko. "And when it does, it will be a game changer."
The study found that teeth up to 10 years old could be used to harvest stem cells, which can be used to replicate any cell in the human body.
"So just because the stem cells are harvested from a tooth doesn't mean they have to be used to replace a tooth," says Lesko. "They will be able to replicate bones, tissue and organs from all around the human body."
Currently, stem cells can be harvested from umbilical cord blood, bone marrow and even body fat, but because baby teeth contain bone marrow, they too are a source of stem cells.
"Bone marrow can be painful and difficult to extract, especially from a child," says Lesko. "Extracting it from teeth will be a painless way to get the same benefits."
As for the time-sensitive nature of extracting stem cells from cord blood, that complication isn't as big of an issue with tooth marrow.
"The best part of doing it this way is that you don't need to bank the teeth by a specific time," says Lesko. "The stem cells can be harvested and banked as they fall out, naturally as your child grows – but only up to about age 10."
But don't just throw the teeth under the pillow and wait for the tooth fairy to take them.
"This type of banking will require some advanced planning," says Lesko. "Most likely you will need to have a preservation kit on hand to keep the tooth from drying out before the stem cells can be extracted."
Contact The Fort Collins Dentist Family & Implant Dentistry:
Location (Tap to open in Google Maps):