Invisible Braces in Fort Collins, CO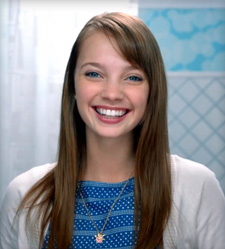 At The Fort Collins Dentist, we want you to look and feel your best. We offer Invisalign clear braces to help you achieve the beautiful straight smile you've always wanted without the discomfort and inconvenience that come with traditional braces.
Invisalign teeth aligners are one of our most popular cosmetic dentistry treatment options for straightening teeth. Teeth aligners are used to fix several types of imperfections including:
To straighten crooked teeth.
To repair an overbite or underbite.
To close gaps between teeth.
To correct an open bite.
To move crowded teeth to a better position.
If you are thinking about Invisalign clear braces, we would love to show how these convenient teeth aligners can transform your smile.
Benefits of Using Invisalign Clear Braces
Invisalign teeth aligners have been around for more than 20 years. The technology continues to advance, giving you the best results along with several advantages over traditional braces.
Virtually Invisible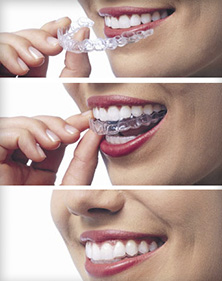 With Invisalign clear braces, your orthodontic treatment can go virtually unnoticed by your peers. Don't be afraid to smile for pictures or to feel confident for your job interview. The clear material fits right up against your teeth for a beautiful smile unhindered by bulky braces.
Smooth Comfort
The Invisalign aligner trays are made from a smooth, clear material. The trays gradually move your teeth into place without the discomfort of wires and brackets. With aligner trays, you won't need to worry about a sore mouth and gums.
Eat Your Favorite Foods
Since Invisalign clear braces are easy to take out and put back in, you can still enjoy all your favorite foods. Simply remove the trays while you eat and place them back in when you're finished.
Easy Dental Care
Aligner tray removal also means you can continue to take care of your teeth the same way you always have. Adult orthodontics don't need to make tooth care clunky with specialized cleaning tools. Invisalign aligners make it easy to keep your teeth healthy and clean.

Invisalign at The Fort Collins Dentist
Invisalign clear braces are now available at most dental offices – so why choose The Fort Collins Dentist? If you ask our patients, the answer is simple: we provide quality, individualized care for each patient who walks through our door and will never try to push you into getting treatment you don't need. At The Fort Collins Dentist you will find a fun and compassionate atmosphere and a staff who cares about your needs.
To make sure your Invisalign teeth aligners are working properly, we'll have you check in with us from time to time and make adjustments to your treatment plan as needed.
The Invisalign Process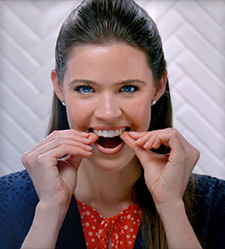 After your consultation, we'll take impressions of your mouth and send them to a lab where a series of aligner trays are custom made just for you. Depending on your treatment plan, you'll wear each set of trays for a week or so before trading the old trays out for new ones.
Every once in a while you'll return to our office where we make sure your teeth are straightening out the way they should. If you are wearing the trays around 22 hours per day, you should see excellent results in about a year!
Frequently Asked Questions
What is Invisalign?
Invisalign is a set of clear, removable aligners that work to straighten your teeth over time. Invisalign works just like traditional braces but without the use of brackets or wires.
Is Invisalign easy to use?
The clear aligners are easy to put in and remove and are comfortable to wear.
How much does Invisalign cost?
The cost of your Invisalign treatment is dependent upon the complexity of your treatment. Every Invisalign case is unique to the patient and we never know the true cost until Invisalign notifies us what is the course of treatment best suited for you.
How do I get started with Invisalign?
Please call us and schedule an initial consultation. Dr. Lesko will sit down with you and review with you what are you looking to correct with Invisalign. The next step after the consultation is to take impressions of your teeth and your bite. These impressions will be sent to the Invisalign lab. At that time, the Invisalign team will look at your current smile in conjunction with what you are looking to correct. In about two to three weeks they will email us a prescription, or as Invisalign calls it, a clin check. This is a visual aid showing you what Invisalign is prescribing and the length of treatment. We will review finances at this time. If you agree with everything then we approve the clin-check and order your first round of aligners. The final step is scheduling an appointment in two to three weeks for your first aligner delivery appointment.
Schedule Your Invisalign Treatment Today
Looking for a great way to straighten teeth without the hassle of metal braces? Get the stunning new smile you've always wanted without drawing unwelcome attention to your mouth. Call us at 970-221-5115 today to set up a consultation!