D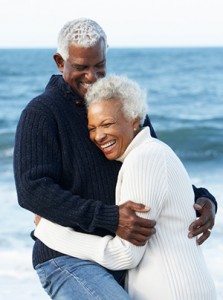 ental implants are the #1 tooth replacement option because they do all of the things that natural teeth do. Dental implants are small titanium rods that are placed into the jawbone. Just like natural tooth roots, implants stimulate the jawbone in order to prevent the jaw from deteriorating. Dental implants are more secure. Unlike some other dental appliances, you will never feel implants shift or slide around in the mouth. Our patients love their implants because they look beautiful, make eating and speaking easy, and last a lifetime.
Single Tooth Implant
There are numerous ways to use dental implants, and at The Fort Collins Dentist, we do them all. The single tooth implant is the simplest form of dental implants. Like the name suggests, this procedure only requires one dental implant to support a single replacement tooth.
Implant Bridges
Implant bridges can be used to replace one or more missing teeth. They are simply dental bridges that are supported by dental implants instead of crowns. Two dental implants are placed–one on either side of the gap–and these implants support the replacement teeth, also known as the pontic.
Implant Secured Dentures
If you need to replace a set of teeth, implant secured dentures may be the most effective implant method for you. Dentures can be held in place by a few dental implants and will stay in place better than traditional dentures. There are both fixed and removable denture options. Come talk to Dr. Lesko about whether or not you want to be able to remove and replace your implant secured dentures.
Continuity of Care
Whether you require a single tooth implant, an implant bridge, implant secured dentures, or any of the other great implant options we offer, you will enjoy continuity of care at The Fort Collins Dentist. Our dentist, Dr. Lesko, is qualified for both the placement and the restoration of the dental implants. Many dentists are only qualified to restore the dental implants, and must send their patients away for their initial placement. When you choose Dr. Lesko for your dental implants, you can stick with a dentist who knows you and your teeth throughout the entire implant dentistry process.
Give us a call today to schedule your consultation with Dr. Lesko. You can talk together about your options and create a plan to improve your smile and the quality of your life.
The Fort Collins Dentist is the Exclusive Provider of the ONLY Permanent Dental Implant Bridge backed by a 5-Year study of over 2,000 cases with a 99+% Success Rate! Find out how Teeth Tomorrow® can Change Your Life