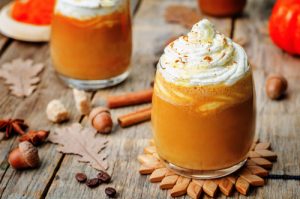 Ready or not, fall is coming! The official first day of fall this year is September 22, known as the Autumnal Equinox, and our days will start to get shorter than our nights. This year, Starbucks, Dunkin Donuts and supermarkets across the nation are so excited about fall they've released all their seasonal pumpkin-flavored favorites early!
The most popular pumpkin spice beverage is Starbucks' Pumpkin Spice Latte, sometimes referred to as PSL for short. This year marks its 15th anniversary, and the coffeehouse giant released it earlier than ever before: August 28. Starbucks sold over 350 million of these fall drinks over the years, making it the most popular seasonal drink ever. Starbucks has gotten so invested in the fall season, it has even created a Facebook Group called the "Leaf Rakers Society," whose description reads: "Welcome to the group that celebrates … Fall. Year. Long."
When it comes to pumpkin spice lattes and flavored coffee drinks in general, it's important to think about them as a dessert rather than a coffee, especially when it comes to oral health. The amount of sugar in these beverages is sometimes close to eating five Krispy Kreme doughnuts!
But you can fulfill your fall drink fantasies while still keeping an eye on your oral health. Start by trying this recipe for a healthier homemade pumpkin spice latte by nutritionist Cynthia Sass, MPH, RD, one of Health magazine's contributing nutrition editors.
Homemade Pumpkin Spice Latte
2 Tbsp. canned pumpkin puree
½ tsp. pumpkin pie spice (or ¼ tsp. cinnamon and ⅛ tsp. each ground nutmeg and ground ginger)
Pinch of sea salt
1 tsp. pure vanilla extract
½ cup unsweetened almond milk
½ cup hot brewed coffee
2 tsp. pure maple syrup
1 Tbsp. almond butter
Step 1: In a saucepan over low heat, combine pumpkin, pumpkin pie spice, sea salt, vanilla and almond milk. Cook, stirring until warm and fragrant, about three minutes.
Step 2: Transfer pumpkin mixture to a high-speed blender and add coffee, maple syrup and almond butter. Blend until well mixed and frothy. Drink immediately.
Whether you love seasonal flavored coffees or like to stick with your regular flavors, keep in mind your teeth when indulging. Be sure to hold off on brushing for 20 minutes after finishing your drink to give your enamel time to re-harden after the acid attack that occurs from eating or drinking sugary things.
For more information about caring for your teeth on a daily basis or to schedule your twice-yearly exam and professional cleaning, call us at 970-221-5115.
Contact The Fort Collins Dentist Family & Implant Dentistry:
Location (Tap to open in Google Maps):