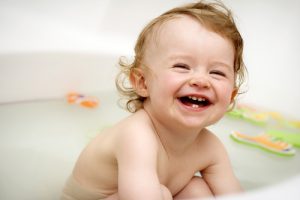 There are so many exciting firsts in a child's life, but one we don't hear about often is the first dental visit. Read on to learn about when you should make that first appointment, how to prepare for it and what to expect at the appointment.
When to Make the First Dentist Appointment
According to both the American Dental Association and the American Academy of Pediatric Dentistry, the first dental visit should happen six months after the first tooth appears or by the child's first birthday, whichever occurs first. This early visit is important to make sure there are no problems in the development of the mouth and teeth. It also helps make the child comfortable with the experience of visiting a dentist so it becomes a regular, normal part of their childhood and, in turn, their adulthood. Habits and positive associations learned earliest in life usually stick with you the longest.
How to Prepare for the First Dental Visit
It's a good idea to start wiping down a baby's gums with a wet washcloth or piece of gauze very early on. This helps keep bacteria off the gums and gets the baby used to having their mouth, gums and teeth cleaned. Once you start to see signs of teeth, you can start using a soft baby toothbrush with just water. When teeth erupt, start with a rice-sized dollop of non-fluoride toothpaste designed for babies.
Other ways to help prepare for the first visit is through role play at home and reading books or watching shows or movies about baby's first trip to the dentist. There are many resources online to help get your child comfortable with their first dental visits.
What to Expect at Baby's First Dentist Appointment
The first dental visit is very important but usually pretty short. This visit is an opportunity to meet Dr. Lesko and her team and to get used to the idea of having the teeth looked at and cared for by someone other than mom, dad or grandparents. Dr. Lesko and her team will check all visible teeth, examine the bite and check for any problems. It's also a great opportunity to ask any questions you have about your child's oral health or general guidelines for caring for your child's developing teeth and mouth.
For more information about caring for your child's teeth or to schedule an appointment, call us today at 970-221-5115.
Contact The Fort Collins Dentist Family & Implant Dentistry:
Location (Tap to open in Google Maps):