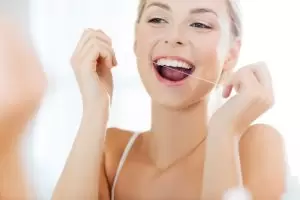 With more than 100 million Americans suffering from diabetes or pre-diabetes, it has never been more critical to raise awareness of this devastating condition. The disease, which occurs when the blood sugar is too high, can cause dangerous complications throughout the entire body – literally from head to toe. One place where diabetes can take its most dangerous toll is inside the mouth, which is why it's crucial to take extra diligent care of oral hygiene if you have diabetes or pre-diabetes.
Here are just a few steps you should add to your routine.
Keep Blood Sugar Under Control
The best way to maintain your oral health and your total body health is to keep your diabetes well controlled. This means maintaining a healthy body weight, eating the recommended foods, caring for teeth properly, and taking diabetes medications and other medicines as prescribed. This will allow your body to spend less time struggling to survive and allow it to fight infections and cavities as needed.
Eat Well
Eating well doesn't just benefit your blood sugar and weight – it benefits your teeth, too. Eating a diet rich in protein and fiber and low in sugar will lower your risk of cavities and periodontal disease.
Quit Smoking
According to the U.S. Centers for Disease Control, smokers are 30 to 40 percent more likely to develop diabetes than nonsmokers. If that's not reason enough to quit smoking, consider what smoking does to your oral health. From stained, discolored teeth to bad breath to an increased risk of heart disease and numerous types of cancer (including oral cancer), smoking is bad news for the entire body.
Care for Your Teeth
This one seems pretty obvious, but it bears repeating. Taking excellent care of your oral hygiene can not only help save your teeth and prevent cavities and periodontal disease, but it can also decrease your risk of developing diabetes in the first place. Not sure where to start? Brush your teeth at least twice a day for a minimum of two minutes each time and floss at least once a day.
Visit Your Dentist Regularly
If you are healthy and have healthy teeth and gums, you may be able to get by on one dental cleaning per year. But if you have diabetes or pre-diabetes, it's imperative that you visit the dentist at least twice a year. Your dentist can help remove tartar buildup at the gum line that can allow dangerous bacteria to get into your bloodstream through your gums. She can also keep an eye on any changes to your oral health biome that could spell danger for your diabetes, such as new abscesses, cavities, loose teeth and periodontal disease.
Navigating diabetes can be stressful, but with the right steps in place, managing oral health care with diabetes doesn't have to be.
Need to discuss diabetes and oral health with Dr. Lesko? Make an appointment today at 970-221-5115.
Contact The Fort Collins Dentist Family & Implant Dentistry:
Location (Tap to open in Google Maps):