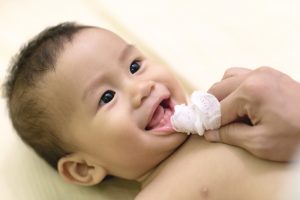 Whether you're a first-time parent or consider yourself an old pro, it's not uncommon to have questions about your infant's oral health routine. From when to start to how to get started, the idea of caring for baby's teeth can be overwhelming to say the least. But there's no need to panic, mom and dad! You've got this. Here's your primer for infant oral health care.
When to Start
Many people believe that the best time to start caring for their child's teeth is when the first tooth erupts. This makes a lot of sense, but believe it or not you can actually start caring for baby's teeth a lot sooner – before he or she even has teeth! By simply swabbing the gums with a gauze-covered finger and fluoride-free toothpaste twice a day, you are setting your baby up for a lifetime of good oral hygiene. Why start before teeth appear? There are two major reasons. First, it cleans the gums, keeping them free of bacteria and germs. Second, it gets your baby used to the feeling of having his or her teeth cleaned, so that when the first tooth does appear, your baby will let you clean it without putting up a fight.
What to Use
Before your child is old enough to spit out toothpaste, you should use fluoride-free paste to keep teeth and gums clean. Make sure you are either supplementing this with fluoridated water or receiving fluoride tablets or drops from your dentist. For infants with no teeth, you can gently swab gums with a piece of gauze or rubber gloves. Once baby's first tooth appears, an infant toothbrush can be used.
When to See the Dentist
Another common question we hear is when babies should have their first dentist appointment. There is no set age for bringing an infant to the dentist. We recommend you bring him or her in for a first dental exam within six months of the first tooth erupting.
What Happens at Baby's First Dental Exam?
Most first dental visits will be very brief. Baby's teeth will be examined and counted, and good oral hygiene practices will be reviewed with the parents. Parents will be directed to schedule their next appointment within six to 12 months of the first, to keep baby comfortable with coming to the dentist.
To schedule an appointment with Dr. Lesko, please call 970-221-5115.
Contact The Fort Collins Dentist Family & Implant Dentistry:
Location (Tap to open in Google Maps):