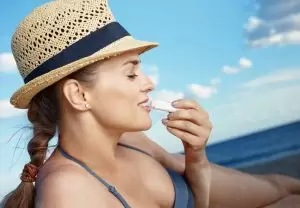 February is a month of love and affection, but it's also a month of health awareness – namely, National Cancer Prevention Month. While cancer can affect nearly every area of the body, often it can either be prevented or its risks greatly reduced by changing one's lifestyle.
This month, in honor of National Cancer Prevention Month, here are some tips you can use to help prevent oral cancer.
In the United States, nearly 52,000 new cases of oral cancer were diagnosed in 2018, with about 20 percent of those cases resulting in death. But oral cancer isn't inevitable – it can be very easy to prevent by making healthy choices. Here are just a few:
Quit Smoking
We know quitting smoking is easier said than done, but it is imperative to safeguard your health. Smoking doesn't just increase your risk of lung cancer, asthma, emphysema, heart disease, stroke and more – it can also cause oral cancer. With the new year here and many smoking-cessation products and programs available, there has never been a better time to quit smoking.
Limit Your Alcohol
Data shows that if you consume three to four glasses of alcohol per day, you up your risk of oral cancer by double – and if you smoke and drink, those numbers are even higher. Plus, heavy drinking is bad for your liver, pancreas, brain and heart.
Use Sun Protection
Did you know that you can get skin cancer on your lips, and that it can spread to the inside of your mouth, becoming oral cancer? It's true – and it's also why it's imperative that when you go out in the sun, you use a lip balm or protectant with an SPF and reapply religiously.
Visit the Dentist
Your dentist is your first line of defense against oral cancer, because he or she can see into your mouth in ways you may not be able to. That is why it is so important to visit the dentist at least once a year for an oral health screening.
Eat a Healthy Diet
Eating a diet rich in vitamins and minerals is an excellent way to boost the immune system, which in turn fights off abnormalities that can cause oral cancer. This means eating a diet full of fruits and vegetables – some raw, some cooked.
To schedule an oral health screening with Dr. Lesko, please call 970-221-5115.
Contact The Fort Collins Dentist Family & Implant Dentistry:
Location (Tap to open in Google Maps):