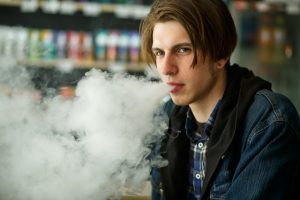 There may be some good news for people who use e-cigarettes, or "vape," their tobacco products. For the estimated 34.3 million smokers in the United States, quitting smoking may prove to be difficult. That's why many smokers have switched from traditional paper cigarettes to smokeless tobacco products such as e-cigarettes. Touted as a healthier alternative to smoking, a new study by British American Tobacco has a new reason why vaping may be better than smoking: less staining.
The studies findings, which were presented at the Global Forum on Nicotine in Warsaw, Poland, found that the vapor generated by e-cigarettes caused less staining to everything from the teeth to common household objects such as wallpaper and furniture.
Study researchers measured the aerosol levels from vaping in cell culture chambers on wallpaper and on bovine teeth to simulate the results on human teeth.
Dr. Allison Lesko is a dentist from Fort Collins, Colorado. She says that though this is good news for any item that might be otherwise stained by tobacco, it's not quite enough to earn a dentist's seal of approval for the teeth.
"Vaping may stain the walls and your teeth less, but it's still not good for your lungs or your teeth," says Lesko. "The chemicals in vaping fluid are still addictive, and their long-term effects are still not known."
Furthermore, Lesko says that while the staining from liquid tobacco products stain less than traditional cigarettes, they do still cause some staining. Worse yet, they still produce a film on furniture and floors.
"If you have family or friends sitting on your sofa, or children or pets playing on your floor, you are exposing them to the vape version of secondhand smoke," Lesko says. "Stains should be the least of your worries."
Another issue dentists have with e-cigarettes? Those lithium ion batteries.
"There have been numerous cases where an e-cigarette has exploded in the mouth of the user while in use," says Lesko. "This has caused serious injury to the face and jaw and has resulted in lost teeth. Many victims have required numerous surgeries."
So, if vaping really isn't a safer alternative to smoking cigarettes, what is the safer alternative?
"Quitting entirely," says Lesko. "No staining, no secondhand chemicals to worry about, and no exploding devices, not to mention the numerous benefits to your health, like improved lung capacity and reduced risk of heart disease, diabetes and cancer."
Contact The Fort Collins Dentist Family & Implant Dentistry:
Location (Tap to open in Google Maps):