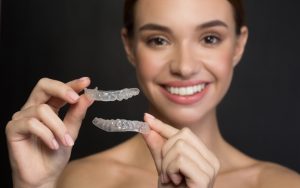 Invisible aligners allow you the orthodontic power of wearing braces combined with the flexibility of living life wire and bracket free when you need it most. But in order to get the most out of your treatment, you need to wear them as often as possible. Thankfully, due to their flexibility, wearing them frequently isn't difficult. But there are definitely a few times when you should take them out.
While Eating
You should never wear aligners while eating. Not only will you not be able to chew your food properly, but you could actually also break your aligner. You could also get food trapped between your aligner and your teeth, making cavities more likely
As a Mouth Guard
Mouth guards are great for protecting your teeth against injury – from teeth grinding while asleep or awake to snoring or even playing sports. But your clear aligners were not designed to protect the teeth in this way. If you do require any of these types of tooth protection, speak to Dr. Lesko about your mouth guard options.
While Drinking Hot Beverages
Hot beverages are a big no-no when it comes to invisible aligners. That's because invisible aligners can literally melt in your mouth and become misshapen if exposed to hot liquids. Not only will this change the shape of your aligners, but it can also affect the shape of your teeth and derail your treatment!
To learn more about clear aligners and their care, please contact Dr. Lesko at 970-221-5115.
Contact The Fort Collins Dentist Family & Implant Dentistry:
Location (Tap to open in Google Maps):