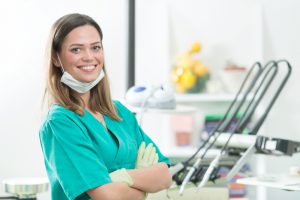 Even though our oral hygiene is important every day of the year, the month of October has been designated Dental Hygiene Month by the American Association of Dental Hygienists, or ADHA. Each October since 2009, the ADHA and its members have celebrated all things oral hygiene and dental hygienist, usually with a different theme each year.
This October, Dental Hygiene Month is once again celebrating hygienists and all they do for our teeth – and reminding us of the healthy steps we can take to ensure we have the best dental hygiene possible. Dr. Allison Lesko of Fort Collins, Colorado, shares these steps with us.
"First and foremost, the No. 1 tip from the ADHA and any dentist is to brush your teeth regularly," says Lesko. "This means brushing your teeth not once but twice per day, for at least two minutes each time."
According to Lesko, nearly half of all people around the world only brush their teeth once a day, and that's not nearly enough to prevent dental caries (also known as cavities) from forming.
The next tip? Flossing.
"Flossing may not seem that important unless you have something stuck between your teeth, but it should be a part of your regular dental hygiene routine," Lesko says.
Lesko and the ADHA recommend flossing at least once a day, preferably at the end of the day so plaque and food particles don't stay stuck between your teeth overnight.
"Flossing removes about 30 percent of the plaque and food particles that brushing can't get to," says Lesko.
Finally, the ADHA recommends you rinse with mouthwash after brushing and flossing.
"Mouthwash will remove and rinse away any bits of plaque and food that you missed brushing and flossing," Lesko says. "And it makes your breath fresh, too."
Though there has been some debate about whether mouthwash should be used prior to brushing to loosen plaque and debris or after brushing and flossing, Lesko says rinsing with water first should suffice.
"Save the mouthwash for when you're done so you get the full effect and benefits of the mouthwash."
For those who have tried mouthwash in the past and aren't a fan of the taste or feeling, Lesko says the mouthwashes of years past have evolved. There are now alcohol-free varieties and different flavors that may be tolerated easier than the old minty standbys.
Oh, and one last tip: Be sure to thank your dental hygienist this Dental Hygiene Month!
Contact The Fort Collins Dentist Family & Implant Dentistry:
Location (Tap to open in Google Maps):