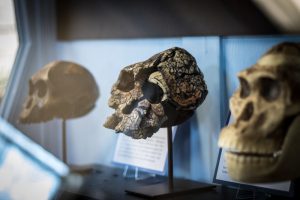 Many of us have probably already heard that foods containing sugar can wreak havoc on our oral health, but have you ever wondered how much of a role your diet really plays in your oral health? Well, a team of researchers at the University of Arkansas wondered the same thing and set out to determine how dietary changes have affected humanoid teeth over time.
The research used teeth dating back millions of years to a species of an early human ancestor called Hominin Paranthropus, led by Dr. Peter Ungar, an anthropology professor at University of Arkansas. At Ungar's lab, he and his team studied both the Hominin Paranthropus and a tribe of people from Tanzania called the Hazda who still live as hunter-gatherers to this day.
The research team noticed that as the Hazda and Paranthropus societies advanced from hunter-gathers to more agriculturally based societies, their teeth began to develop more cavities.
"What the researchers found was that the more meat-based the diet was, the fewer cavities the species had," says Dr. Allison Lesko, a dentist from Fort Collins, Colorado, who was not involved in the study.
So, what was behind the increase in cavities? After all, agricultural products like fruits and vegetables shouldn't be responsible for that many cavities.
"They found that, for starters, the male citizens of the Hazda and Paranthropus societies had worse teeth than the women," Lesko says. "In fact, some of the female teeth are perfect, while the male teeth were riddled with dental caries."
The answer is honeycomb, something that, according to Ungar and his team, is a common snack for hunter-gatherer males to consume while on hunts. The honeycomb provided a much-needed source of energy, but the comb itself is made of a waxy material that adheres to and between the teeth.
"Without a toothbrush, that wax could stay stuck to the teeth for a long time, causing cavities," Lesko says.
But Ungar's study doesn't just aim to examine the anthropological history of teeth and cavities. He and his team hope to someday develop a device that could measure and treat dental erosion. As for what researchers like Ungar want people to take away from the study?
"The study highlights how important our diet is to our oral health," Lesko says. "It's not just about how well we care for our oral hygiene. What we eat makes a huge impact on our oral health, too."
Contact The Fort Collins Dentist Family & Implant Dentistry:
Location (Tap to open in Google Maps):