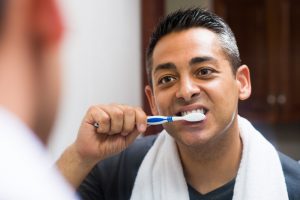 If you have sensitive teeth, it can really take the joy out of your daily life. From passing up your favorite foods like hot coffee and ice cream to experiencing discomfort during hot or cold weather, sensitive teeth affect more than just your mouth. This condition can really affect your mood too. But thankfully you don't have to simply accept the discomfort and inconvenience of sensitive teeth. Here are some lifestyle changes you can make that may go a long way toward lessening the pain of sensitive teeth, so you can get back to enjoying the foods and activities you love without the sensitivity!
Change How You Brush
Yes, there is a wrong way and a right way to brush your teeth. If you are brushing your teeth too hard, brushing your gums, or brushing back and forth, you could be harming the gums and causing gum recession. Gum recession in turn can cause – you guessed it – sensitive teeth. If this sounds like how you're brushing, try this instead: Hold your brush at a 45-degree angle and brush in small circular motions. If you need a demo, ask Dr. Lesko and her team at your next appointment.
Change What You Brush With
Sometimes we may be brushing the right way, but with the wrong brush. This is an easy fix. Stick with a medium to soft-bristled brush and follow the brushing guidelines above. Save those hard-bristled brushes for your tile grout!
Change Your Toothpaste
If you are experiencing sensitivity but not using a sensitive toothpaste, it may be time to switch. Sensitive toothpaste is made with an ingredient called potassium nitrate, which is used to fill in the tiny pores in the teeth called tubules. These tubules lead to the nerves, so when they're blocked, you can actually prevent hot and cold foods and air from reaching those nerves. It's kind of like how the insulation in your walls blocks the outside weather from getting inside your home.
Change Your Diet
While you shouldn't have to change your diet to accommodate tooth sensitivity, there are certain foods that forgoing may make it easier to live life pain free. Foods that are high in acid such as citrus and soda or foods that are high in sugar may make sensitivity worse, so eliminating these where you can from your diet may enable you to enjoy other foods again.
Ready to make an appointment to talk about your tooth sensitivity? Call Dr. Lesko's office today at 970-221-5115.
Contact The Fort Collins Dentist Family & Implant Dentistry:
Location (Tap to open in Google Maps):