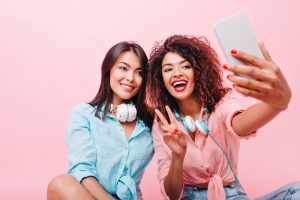 You hear about them all the time in the news – people getting in trouble for taking them, people getting hurt while taking them, even people taking lessons on how to take them. They're those photos we snap of ourselves with our smartphones known as "selfies." But while some people are quick to decry the selfie culture that we as a country have adopted, selfies, for all their controversy, can still do some good in the world.
A recent study conducted with researchers in India and at the Case Western Reserve University School of Dental Medicine found that tooth-brushing behaviors changed when participants took selfies while brushing their teeth.
"First the participants were re-trained on how to brush their teeth properly by the researchers in the study," says Fort Collins, Colorado, dentist Dr. Allison Lesko, "and then they were sent home with instructions to record themselves via video or selfie brushing their teeth."
The participating university students submitted two weeks' worth of brushing selfies to the researchers in the project for analysis, and what the researchers found was nothing short of fascinating.
"They found slight modifications in the photos and techniques captured in the selfies," says Lesko.
So what do researchers think motivated these changes?
"The researchers believe the participants modified their techniques because they knew someone was watching, but also because they were actually trying to improve their brushing technique to the new way they were taught to brush in the study," she says.
According to Lesko, that's good news.
"It showed the researchers that these participants wanted to make positive changes, and that the snapping of the selfies was kind of a motivator to stick with that – because they knew in a sense that someone was watching them while they brushed," Lesko says.
Lesko says that while the study was small, there are still some very important takeaways. For example, the idea that photographing yourself could help positively reinforce a new behavior such as a better way to brush your teeth. Another benefit?
"You can bring those selfies to the dentist with you and have your own dentist evaluate your brushing technique," she says. "If you're doing something wrong or inefficient, we can give you pointers or lessons and you can conduct your own home study like the one that Case Western conducted and see if taking selfies while you brush changes anything about your own brushing technique."
Contact The Fort Collins Dentist Family & Implant Dentistry:
Location (Tap to open in Google Maps):