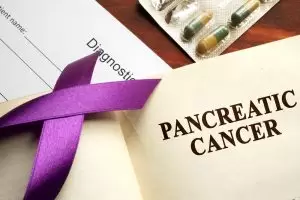 Pancreatic cancer is comparatively rare, with only 2 percent of cancers diagnosed each year occurring in the pancreas. Unfortunately, despite its low numbers, it is the fifth highest cause of cancer death worldwide and the fourth leading cause of cancer death in the United States alone each year. The five-year survival rate of pancreatic cancer is under 5 percent. Even more troubling, it seems to affect African Americans more commonly than any other demographic (pancreatic cancer rates are 50 to 90 percent higher in African Americans), a fact that has researchers scratching their heads. Worse still, among those diagnosed with pancreatic cancer, African Americans have a disproportionately grim prognosis for the illness due to late diagnosis and inadequate treatment.
But now, a new link between pancreatic cancer and oral health has emerged, and it could help shed some light on this devastating illness.
According to a recent study, African American women with poor oral health are more likely to develop pancreatic cancer than African American women with excellent oral health. Though there are many theories behind this information, researchers believe it is due in no small part to the periodontal bacteria that could be responsible for the oral hygiene problems.
Dr. Allison Lesko is a dentist in Fort Collins, Colorado. She says studies like these are just beginning to shed light on how dangerous periodontal bacteria really is.
"Emerging research is showing us that periodontal bacteria is responsible for everything from diabetes to heart disease, and now pancreatic cancer," she says.
Other factors contributing to pancreatic cancer's prevalence in the African American community include factors such as income disparity. The African American population has historically been less likely to have health insurance than other racial groups, which means these patients may be more likely to put off seeing a doctor or dentist because of cost.
According to Lesko, another factor that could contribute to the higher rates of pancreatic cancer in the African American community is higher rates of smoking, which has been found to not only cause tooth loss, decay and periodontal disease, but also has been proven to both cause and worsen various forms of cancer.
"It is estimated that about 25 percent of all pancreatic cancer cases are caused by cigarette smoke alone," says Lesko.
Furthermore, the African American community is disproportionately affected by another illness: type 2 diabetes. Studies have shown that type 2 diabetes increases the risk of pancreatic cancer. In fact, it is estimated that up to 80 percent of patients with pancreatic cancer either have long-standing type 2 diabetes, newly developed type 2 diabetes or impaired glucose tolerance.
So, what can be done to help reduce these numbers? According to Lesko, it's a whole lot of preventative measures.
"Quit smoking, and take excellent care of your teeth," she says. "Even if you can't afford to go to the dentist or doctor regularly, you can afford to quit smoking and you can brush your teeth twice a day and floss once a day. Even steps as simple as those can add years to your life."
Contact The Fort Collins Dentist Family & Implant Dentistry:
Location (Tap to open in Google Maps):