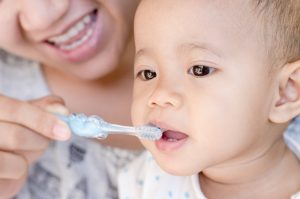 When it comes to kids' oral health, many a study has been released on the impact of oral hygiene on their overall well-being – namely their ability to focus on and attend school regularly. That's because time and time again those studies have shown that when a child is suffering from dental pain, they can't focus during class time, and they miss more school due to untreated dental pain and dental visits to address that pain. Now, a new study has been released showing just how prevalent poor oral care in children really is, as seen from the eyes of their parents. These sobering statistics seem to echo what previous studies have shown – that we are failing at children's oral health care in America.
The newest study was published by top oral health insurer Delta Dental's Delta Dental Plans Association, a nonprofit organization that represents Delta's 39 families of independent companies. The study surveyed 1,481 parents of children under the age of 12.
In the survey, parents were asked to rate their children's oral health and hygiene. The group that scored the highest marks on this question? Children under the age of 3. That's because parents of children this age by and large are still in control of their children's hygiene habits and thus better able to give their children a higher score. Unfortunately, that high score wasn't very high at all, with just 30 percent of parents rating their young child as having excellent oral health.
The results get worse as the children's ages increase. Just 21 percent of the 3- to 5-year-old group was rated by parents as having excellent oral hygiene. The 6- to 9-year-old age group got a 17 percent excellence rating, and the 10- to 12-year-old group got just 14 percent. So, what's going on that these numbers are so low – and, even worse, are decreasing so rapidly as children age?
The Delta Dental Plans Association attributes the decrease to parents relinquishing control of their child's toothbrush with age. While children in the birth to age 3 group get their teeth brushed by mom or dad, as they age they are given more responsibility to care for their teeth on their own, and that's where the problems begin.
So, what can be done to correct this problem? For starters, parents must take more time to ensure their children are brushing and flossing properly. Yes, one of the joys of raising children is watching them grow into independent people, but when it comes to oral health, if they're not ready to take the reigns themselves, there's no shame in helping them out a little bit longer.
As for parents who are caring for their child's teeth themselves and still experiencing difficulties, speak to Dr. Lesko for some tips on how to help make oral hygiene easier for your child and yourself. She can be reached at 970-221-5115.
Contact The Fort Collins Dentist Family & Implant Dentistry:
Location (Tap to open in Google Maps):