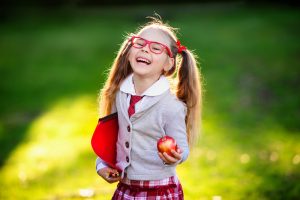 With 78 percent of all adults experiencing at least one cavity in their teeth by the age of 17, teaching children excellent oral health habits at a young age is vitally important to their future dental health. But it goes much further than that, because poor oral hygiene in children can cause a host of dental problems – both in the future and in the present. Dr. Allison Lesko of Fort Collins, Colorado, explains why oral health is crucial in children.
"I think some people assume that since they're just going to fall out anyway, baby teeth aren't important," says Lesko. "But not caring for baby teeth can set your child up for a lifetime of dental problems."
What kind of problems? For starters, Lesko says baby teeth are more important than many people realize.
"Baby teeth are like starter teeth. Teaching your child to care for baby teeth is a great way to set them up for a lifetime of proper oral hygiene," she says.
But that's not all. Baby teeth can impact future teeth, too.
"Baby teeth act as placeholders for adult teeth," Lesko says. "If they are severely decayed and need to be removed, those gaps and spaces can cause crowding issues when the adult teeth come in."
According to Lesko, it goes even deeper. Cavities in children have been shown to cause adverse effects in their education. According to the Children's Dental Health Project (CDHP), children with cavities missed up to three times more school than those without cavities because of oral pain. Another study out of Los Angeles found that dental pain was so prevalent, an estimated one-third of absences in lower-income elementary-school-aged children were dental related, and in yet another study, high-school-aged children experiencing prolonged dental pain were about four times more likely to have a lower GPA.
"Children can't focus on school when they're suffering from dental pain," Lesko says. "And waiting too long to fix cavities can equate to missed school due to dental appointments and the child simply not feeling well enough to attend."
So, what, as a parent, can you do to protect children's oral health? The key, says Lesko, is prevention.
"Teach your children to properly care for their teeth," Lesko says. "That means brushing twice a day for at least two minutes at a time and flossing at least once a day."
But don't just take their word for it, she says.
"Follow up – especially with younger kids," Lesko says. "Make sure they are brushing and flossing, and make sure you are doing your due diligence as a parent and taking them to their regularly scheduled dental exams."
Contact The Fort Collins Dentist Family & Implant Dentistry:
Location (Tap to open in Google Maps):