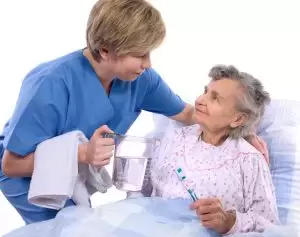 If you are a caregiver for someone ill or elderly, first of all, thank you. Your tireless work is something to be celebrated, whether you get recognition or not. Though your job may have its challenges, it can also be rewarding when you are successful.
One of the many challenges caregivers face is providing oral health care to those they care for. But it doesn't have to be a struggle. Here are some ways you can make making oral health care a priority for your charge a lot easier.
Protect Yourself First
You know that airline warning that says to put your own oxygen mask on first before helping others? The principle here is the same: You can't be helpful if you yourself aren't well. That's why it's imperative when caring for someone else that you protect yourself. This means wearing gloves and possibly even a mask while cleaning your charge's teeth. Dental professionals do it, and so should you.
Remove Removable Parts
If the person you are caring for wears dentures or partial dentures, make sure you are removing them to clean them. These orthotics should be soaked in denture cleanser daily, but also gently brushed to remove stubborn, stuck-on food particles. It is advised to do this over a towel in case you drop them. Dentures are strong enough to chew with but can break easily when dropped. Finally, be sure to rinse them thoroughly before placing them back into the mouth.
Don't Forget the Gums
If the person you care for has no remaining teeth, you still need to care for their gums. You may do this by wiping them down with a damp piece of gauze. Once that's done, have your charge rinse his or her mouth with water, or wipe the gums a second time with a new piece of gauze.
Brush Remaining Teeth
Whether your charge wears partials or has a full set of teeth, be sure to brush the teeth thoroughly for two minutes at a time. It is also recommended that you floss their teeth, especially in the evening. Then have them rinse their mouth. If they cannot do this themselves, use damp gauze and wipe the teeth clean.
To learn more about providing oral health care to the ill or elderly, please contact Dr. Lesko at 910-221-5115.
Contact The Fort Collins Dentist Family & Implant Dentistry:
Location (Tap to open in Google Maps):