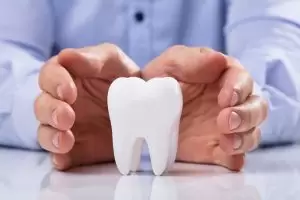 One of the biggest pitfalls of teeth is that once they're damaged, they're damaged. Enamel can't regrow, cavities can't heal themselves, and you end up needing painful and costly repairs to your teeth that will most likely need to be repeated somewhere down the road. But a new treatment in the works at the Herman Ostrow School of Dentistry at the University of Southern California could change all that. Under the leadership of Professor Janet Moradian-Oldak, a new enamel-regeneration hydrogel could be possible in the not-too-distant future.
The USC team found a way to regenerate a compound that is similar to enamel on the surface of the teeth. Made of something called chitosan-amelogenin peptide, which the body creates naturally to grow enamel, the hydrogel has been found to grow a surface coating that could someday replace damaged enamel.
Dr. Allison Lesko of Fort Collins, Colorado, thinks this new treatment could someday make her job a lot easier.
"They say up to 75 percent of all adults have some degree of fear of going to the dentist, which keeps a lot of people from getting necessary dental treatment," she says. "A lot of that fear is fear of getting fillings, so if we could eliminate the need for fillings, it could encourage more people to go to the dentist."
The hydrogel could not only heal minor surface cavities, but could also repair enamel damage such as enamel wear, which causes tooth sensitivity as well as enamel chips and cracks.
"Now, if you chip a tooth, the solution is a veneer or a filling," says Lesko, "and while those treatments aren't necessarily painful, they're not permanent, either."
The average age of a filling is about 10 to 15 years, but they can last up to 20 if well cared for. Regrown enamel would hopefully eliminate the need to replace fillings in or on the teeth.
"Replacing a filling can be a costly and embarrassing experience for some people, especially if their old filling falls out or off," Lesko says. "They're not meant to last forever."
Lesko for one is glad that researchers are choosing to find ways to repair teeth, but she also welcomes research on ways to strengthen fillings in the meantime.
"The researchers at USC say that this type of enamel repair is still not ready for even clinical trials," Lesko says. "In the meantime, I hope there are ways to strengthen fillings for those who need them."
The USC research team recently was awarded three grants to continue their research, one of which should help them fast-track their findings to the Federal Drug Administration.
Contact The Fort Collins Dentist Family & Implant Dentistry:
Location (Tap to open in Google Maps):