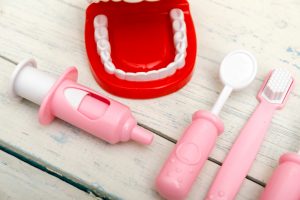 Do you have a budding dentist at home? A child with a fear of going to the dentist or brushing their teeth? Or maybe you just want to teach your children how to care for their teeth. Whatever your motivation, there are many tooth-themed toys and games out there you may not know about that can make oral health fun!
If you're looking for a way to make dentistry fun for your kids, check out these cool dental-themed play products.
Thinkmax Play Dentist Set
For the future dentist, the Thinkmax Play Dentist set is available on Amazon.com and contains 15 pieces, including play picks, mirror, toothbrush and even a smiling set of teeth. The pieces come in a cute retro medical bag for storage, so your little one can make house calls without losing all the pieces in the process. This set would be great for kids who both want to be a dentist or are afraid to go to the dentist. Parents can demonstrate how the tools will be used on their child on a favorite toy, showing the child exactly what the dentist does, and how gentle their exam will be.
Crocodile Dentist
This clever and fun game isn't as educational as some of the other dental toys, but it sure is fun! Kids can press the teeth of the crocodile at each turn, and one unlucky player will get their hand chomped by chance. The "teeth" don't hurt when they bite, but they definitely can take you by surprise!
Play-Doh Drill'N Fill Set
Another fun game for the orthodontist- or dentist-in-training is the Play Doh Drill'N Fill playset. It comes with a mouth, dentist tools and plenty of Play-Doh to use for making everything from teeth to braces. We let a 4-year-old try it out and it got two thumbs up (they especially loved making green teeth)!
Playmobil Dentist with Patient
Playmobil makes a wide variety of toys for every walk of life, but the company's dentist with patient playset is great for kids who want to play dentist without having to be the dentist themselves. In addition to the dentist and the patient, the set comes with a chair, dental tools, dental equipment and pretty much everything your child will encounter at their own dental exam.
The Toothless Monster
The Toothless Monster is an adorable plush toy that "grows" teeth each time your child loses a tooth. The toy comes with a book about why it's important to care for your teeth. It's not meant to replace the tooth fairy tradition, but it teaches children to help others while keeping the experience of losing teeth positive.
Whether your child loves caring for their teeth and visiting the dentist or is apprehensive about these experiences, these toys can help make oral health fun, and hopefully encourage your child to take control of their own oral hygiene.
To schedule an appointment with Dr. Lesko, please call 970-221-5115.
Contact The Fort Collins Dentist Family & Implant Dentistry:
Location (Tap to open in Google Maps):