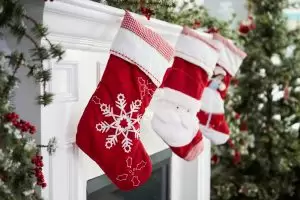 It's that magical time of the year again when the stockings are hung by the chimney and often filled with chocolate and candy. Just like at Halloween, we definitely think candy and chocolate are perfectly OK in moderation! What's a holiday without some treats and indulgences? But, to keep teeth safe and healthy, try to minimize candy, chocolates and sweets and try these other ideas to fill up the bulk of your children's stockings this year and avoid the sugar rush.
LEGO Mini Sets
Found in the toy section and also usually in the checkout line of many popular stores, these sets often cost around $5 and help kids develop creativity, motor skills and direction following.
Hats or Ear Warmers and Gloves
It's cold this time of year and as kids grow and their styles change, you might find yourself buying them a new pair of gloves and hat each year. Why not include it in their stockings?
A Yearlong Magazine Subscription 
There are so many great children's magazines out there that are both educational and entertaining. Plus, kids will love checking the mail once a month to find their next magazine waiting for them.
Flashlights
For some reason kids seem to LOVE flashlights! This perfectly sized stocking stuffer will come in handy for kids who are scared of the dark and for those nights when storms may cause the power to go out.
A Reusable Water Bottle
Schools all over the nation are encouraging kids to bring reusable water bottles to school now. Since you need one anyways, you might as well find one they'd really like and put it in their stocking.
Movie Tickets
Making memories together is a holiday favorite for kids and parents. Include tickets to a movie, play or even theme park in their stockings this year!
Art Supplies
Help develop and encourage their creative side with crayons, markers, paint sets and any other art supplies they might enjoy.
Small Games 
Stores often have a card game section complete with choices for all ages and even some smaller tile or dice-based games that many kids enjoy. Bonus: These make great road trip items too.
Don't forget to schedule your twice-a-year dental cleanings and checkups for you and your children so we can help make sure teeth stay healthy all year long! To schedule an appointment, call us today at 970-221-5115.
Contact The Fort Collins Dentist Family & Implant Dentistry:
Location (Tap to open in Google Maps):