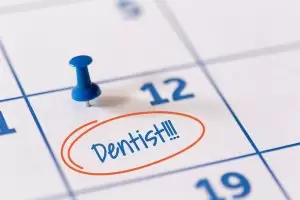 Contrary to the immense fear and dread constantly portrayed in the media about the general public's feelings toward dental visits, many people don't mind going to the dentist, and some even say they genuinely enjoy it! Why, you may ask? Let's get down to the details and find out what makes some Americans love dentists and all they stand for.
The American Dental Association actually surveyed people and got some pretty solid, direct quotes as to why they love the dentist.
One respondent said, "I have a great smile and great teeth. Well, let me clarify. That's what I'm told when I go to the dentist, and that's also why I like going. I get a lot of compliments."
Who doesn't enjoy compliments?! If you take great care of your teeth, a dental visit can help you feel like that hard work and commitment is paying off!
Another survey respondent said, "I like the goodie bags because they have the GOOD floss. It doesn't get stuck between my teeth like the cheap stuff."
We all love freebies!! Remember how cool getting those goodie bags from the dentist was as kids? Well, adults still enjoy the reward they get after a successful checkup. It's even better when something in the bag turns out to be one of your favorites.
Another respondent, Brita, agrees:" I LOVE the goodie bags. I save every travel-size tube of toothpaste … for travel. Dentist bags are my preferred swag bags."
"I love having the evidence of my sweet tooth totally scraped and scrubbed off, and then I get to leave with the freshest, cleanest feeling in the world," said one patient surveyed. "What could be better?"
It IS a wonderful feeling when you rub your tongue over the fronts of your teeth after a dental exam and cleaning. It's also nice knowing your teeth are incredibly clean and healthy. Some types of plaque can't be removed without professional tools, making your regularly scheduled dental exams and cleanings incredibly important.
If you haven't been to the dentist in the last six months, it's definitely time for your next checkup and professional cleaning. Call us today at 970-221-5115 to set up an appointment.
Contact The Fort Collins Dentist Family & Implant Dentistry:
Location (Tap to open in Google Maps):