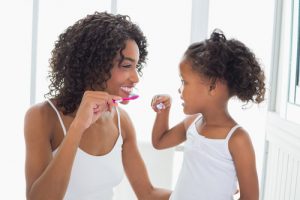 There are few things most adults dread more than a trip to the dentist. If you ask, many of those with anxiety about dental visits can trace it back to childhood. In some cases, a specific bad experience may have led to negative associations with the the dentist, and in other cases, there's no clear cause, just a general sense of unease from an early age.
What if we could completely change the way our kids experience going to the dentist so that when they become adults, they don't have the fear and anxiety that many of today's adults suffer from? The good news is, we can! Here are just a few ways to help get kids excited about their dental appointments and begin a positive association with the dentist from an early age.
Start Trips to the Dentist Early
The earlier you start any habit, the more it becomes an expected part of a child's life, reducing anxiety. This is true about an at-home oral hygiene routine and with trips to the dentist. The American Academy of Pediatric Dentistry says that the first dental visit should occur within six months of a child's first tooth. If by age 1 no teeth have broken through, it's a good time to make that first appointment.
Read Books About Dentist Visits
Books are a great way to help kids cope with everything from starting school to making friends and even trips to the doctor or dentist. There are many great books out there that specifically address what they can expect from a trip to the dentist and even books that explore dental anxiety for those who may already be struggling with it.
Watch Kids' Shows or Movies That Have Dentistry in Them
Although movies like "Finding Nemo" may put a negative twist on dentistry, there are lots of videos out there on the internet that help kids learn about dentistry and create positive feelings. On the Mouthhealthykids.org website, there are a series of videos from "Dudley and Friends" and "Sesame Street" that are perfect for preschool-aged kids and younger.
Make Cleaning Teeth Fun at Home
It's true that healthy habits start at home. That's why it's so important that parents integrate a fun, healthy, consistent oral care routine beginning in infancy. As children get older, letting them pick out their own brush, playing a fun song during brushing and using timers in fun colors, shapes or characters can all help make the experience more enjoyable.
For more tips on how to make dental visits fun and easy for the whole family, or to schedule an appointment, call us today at 970-812-0355.
Contact The Fort Collins Dentist Family & Implant Dentistry:
Location (Tap to open in Google Maps):