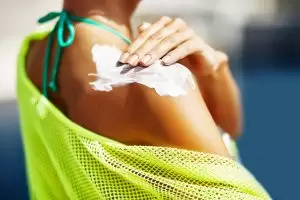 It's May again, which means, among other things, spring flowers, longer days and warmer weather are on their way. It also means it is once again the Skin Cancer Foundation's annual Skin Cancer Awareness Month. Each May, the Skin Cancer Foundation works to draw awareness to this very serious and very preventable disease that affects not just the outside of the skin, but can also turn into oral cancer. Before you head into the sun this spring and summer, remember these skin cancer prevention tips and stay vigilant about your health.
Watch the Clock
The sun's harmful UV rays are at their most dangerous between the hours of 10 a.m. and 4 p.m. each day. Be aware of the time when going outside, and try to avoid direct sunlight between these hours.
Protect Your Skin
If you must go outside between 10 a.m. and 4 p.m., be sure to wear your sun-protective gear: long sleeves, wide-brimmed hats that cover the ears and nose, sunglasses, and of course a sunblock with a minimum of SPF 15 covering all visible skin, including the lips. If you will be working or playing outdoors for an extended period of time, opt for at least SPF 30.
Follow the Recipe
Not sure how much sunblock you should be using? Your entire body should be covered in 2 tablespoons of sunblock. For best results, apply 30 minutes before stepping outdoors into the sun. Be sure to reapply your sunblock every two hours or as directed on the bottle.
Monitor the Situation
Perform monthly self-checks on the skin of your entire body. Keep an eye out for any changes in skin texture or color, moles, or any other growths that appear on the skin. Don't forget to check the backs of hands, tops of feet and on the face – including on the lips. Recruit a spouse or partner to help you check the back, neck, and tops and back of the ears.
Leave It to the Professionals
Be sure to visit a dermatologist or physician once a year for an annual skin check, and your dentist for an annual oral cancer check. You may not realize it, but skin cancer on the outside of the mouth can spread inside the mouth and become oral cancer!
Ready to make an appointment for a checkup with Dr. Lesko? Call 970-221-5115 today.
Contact The Fort Collins Dentist Family & Implant Dentistry:
Location (Tap to open in Google Maps):