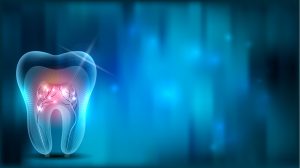 Who's afraid of a big, bad root canal? Apparently, a lot of people – but that fear may be unfounded. A new study by the University of Adelaide in Australia found that among 1,096 randomly selected patients who underwent a root canal, the pain of the procedure was ranked no worse than any other procedure performed at the dentist's office. This may come as a surprise to some, as root canals have earned a reputation as being the very worst type of dental procedure one can endure.
During a root canal, a tiny hole is drilled into the affected tooth, and the pulp and nerves of the tooth are cleaned out and then replaced with a synthetic material called gutta percha. A root canal allows the patient to keep the outer structure of their natural tooth without needing a crown or extraction.
Dr. Allison Lesko of Fort Collins, Colorado, says that many of her patients are surprised to discover that root canals really aren't as painful as they'd first believed.
"It always comes as a shock to patients that they feel surprisingly comfortable during a root canal," she says, "and that they actually feel pretty good afterward."
The latter makes sense too, as generally speaking most people who end up needing a root canal procedure are experiencing some degree of tooth pain in the first place.
"The procedure comes as a relief to the pain that the patient was experiencing before the root canal procedure, because the dentist has cleaned out the infection," she says.
With over 22 million root canal procedures performed each year here in the United States, Lesko is surprised the procedure doesn't have a better reputation, but she is hopeful that the University of Adelaide study will help change some perceptions.
"We need to destigmatize many of these procedures, so patients aren't so afraid to take control of their oral health," she says.
With an estimated 75 percent of all adults experiencing some degree of odontophobia (fear of the dentist), it is especially crucial to change opinions about dentistry.
"The more afraid people are to visit the dentist, the less likely they are to go to the dentist, which can make any problems with their teeth get worse," Lesko says. "Pretty soon what was just a cavity turns into a crown or a root canal, all because the patient was afraid of a filling."
Contact The Fort Collins Dentist Family & Implant Dentistry:
Location (Tap to open in Google Maps):