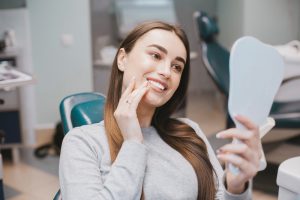 The pursuit of whiter, brighter teeth is a $3.2 billion-a-year global industry. Suffice it to say, many of us are searching for a prettier smile. But walking down the toothpaste aisle of your local store can be almost dizzying with options. How do you know what works and what doesn't work? How can you tell what's safe and what isn't? And if you buy an over-the-counter whitening product or device, are you really saving any money over professional whitening? Here's what you need to know about bleaching your teeth.
When it comes to whiter, brighter teeth, bleaching with the active ingredient hydrogen peroxide is the gold standard used by dental professionals as well as many over-the-counter bleaching kits. Unfortunately, while at-home kits tend to be less expensive than professional whitening services, they do carry with them a high level of risk.
For starters, many of these kits can contain upwards of 25 percent hydrogen peroxide, a dangerous level if applied incorrectly. To put it into perspective, in the United Kingdom, where products containing hydrogen peroxide are regulated by the government, even dentists can only use products containing 6 percent hydrogen peroxide!
Why? Because hydrogen can damage enamel as well as gums. Unfortunately, because whitening kits are classified as cosmetic and not medical products here in the United States, there are no data on how often this type of injury occurs, as cosmetic manufacturers are not required to submit that data to the Food and Drug Administration (FDA).
Another popular ingredient that is widely available here in America, sodium chlorite, was recently investigated in a study published in the British Dental Journal. The study found that sodium chlorite was more likely than any other over-the-counter ingredient to cause permanent damage to the tooth enamel.
So, what can be done for those of us who want whiter teeth? Look no further than your dentist. Yes, in-office whitening treatments are a bigger investment up front, but with better, longer-lasting results and the benefit of being done safely and accurately, it can actually save you money in the long run. Other safe and effective ways to whiten teeth at home include brushing twice a day and flossing at least once a day, not smoking, and avoiding foods that stain the teeth.
To learn more about teeth whitening and oral hygiene, contact Dr. Lesko's office at 970-221-5115.
Contact The Fort Collins Dentist Family & Implant Dentistry:
Location (Tap to open in Google Maps):