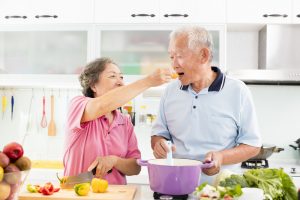 For older people, the problems caused by poor oral health can be multifold. Recent studies have linked poor oral health in seniors to fatal diseases such as Alzheimer's disease, not to mention diabetes, cancer and heart disease. But two new studies have revealed more troubling evidence that poor oral health in seniors – especially those in vulnerable populations such as lower-socioeconomic and immigrant populations – can have dangerous consequences.
The two new studies found that older Chinese patients living in the United States with poor oral health have higher rates of conditions like hypertension (high blood pressure), cognitive decline (a precursor to dementia) and depression.
The two studies were conducted at Rutgers University in New Brunswick, New Jersey, by Darina Petrovsky, Bei Wu and Weiyu Mao. They examined data from more than 2,700 Chinese American participants over the age of 60. What they found was that almost half of the participants had some kind of problem with their teeth, and those with oral health problems reported having problems with memory decline and cognition.
The study also found that nearly 19 percent of participants had gum issues, over 15 percent had both teeth and gum issues, and a quarter of participants had dry mouth. Those patients with dry mouth also had poor overall oral health and experienced higher rates of stress.
Dr. Allison Lesko of Fort Collins, Colorado, says the study is very telling when it comes to highlighting the importance of oral health in seniors.
"Though this study was done on a very specific population – Chinese senior citizens living in America – it can be universally applied to other senior immigrant populations," Lesko says.
Though researchers said part of the problem faced by seniors in this demographic is both a lack of dental insurance coverage and a language barrier between patients and American dentists, the problem is universal in that many seniors are unable to visit the dentist regularly.
The other element to the study, the discovery that stress may play a dangerous role in dry mouth, may have other solutions, as well as causes.
"Researchers recommend older people reach out to family and friends in times of stress to help reduce the stress and hopefully some of the dry mouth symptoms, but stress isn't the only cause of dry mouth," Lesko says. "Things like medication can cause dry mouth, and many seniors take medication each day, which is why it's imperative we are working to get seniors to the dentist. A dentist can identify the medications that could be causing dry mouth and offer solutions to remedy it."
Contact The Fort Collins Dentist Family & Implant Dentistry:
Location (Tap to open in Google Maps):