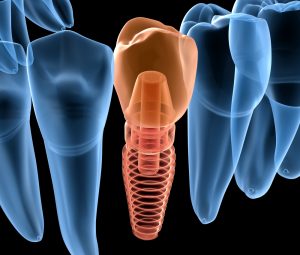 It's not uncommon for adults who are missing any number of adult teeth to feel embarrassed or insecure about their appearance. Unfortunately, though teeth are part of our bodies, unlike bone they cannot heal themselves or grow back when lost or extracted. For those missing adult teeth, this often means either going without a tooth or wearing a prosthetic bridge or denture to fill in the gap. But for a more permanent solution to replace missing adult teeth, there is a more permanent solution: dental implants.
Dental implants are prosthetic teeth that attach to the gums via a metal screw that is implanted into the jawbone. Once the screw has healed securely into place, a prosthetic crown is screwed on to the exposed metal screw, creating the look of a natural tooth. Considered the gold standard in replacing teeth, dental implants do more than just improve patient self-esteem and the look of the mouth. Here are some other benefits to installing dental implants.
Speech
Though not true for everyone, when you are missing teeth it can sometimes affect your speech. Missing teeth can make it sound like you have a lisp or speech impediment, something that can make you feel self-conscious. This can cause problems in a person's work and personal life and cause them to withdraw from engaging in conversations or speaking up about important matters.
When you replace missing teeth with dental implants, your speech should return to normal, giving you the confidence to speak up again.
Chewing
When you are missing a tooth or teeth, chewing may become difficult or even painful. The good news is that with dental implants, your crown acts as a natural tooth, enabling you to chew regularly without any pain or discomfort, as if your natural tooth or teeth were never missing in the first place.
Protection of Other Teeth and Gums
Another benefit to replacing lost teeth with dental implants is the effect dental implants will have on your other teeth. When you are missing adult teeth, it can cause a lot of trouble for your existing teeth, bones and gums. First of all, there's a risk of bone degradation in the space where the tooth was removed. The longer a bone goes without a tooth, the higher the risk of bone degradation. Bone degradation can cause the loss of other teeth as well as a sagging face and jaw.
Closing the gap with dental implants can also protect your gums from gum disease, because plaque and bacteria have a harder time getting into the gums.
Easier to Care For
Cleaning dental implants is easier than cleaning dentures, because you can brush them and floss between them just like you would your natural teeth. With dentures, you must remove them to clean them very carefully. Because dental implants mimic natural teeth removing them is not necessary for most cleanings.
To learn more about the dental implant process from Dr. Lesko, please call 970-221-5115.
Contact The Fort Collins Dentist Family & Implant Dentistry:
Location (Tap to open in Google Maps):