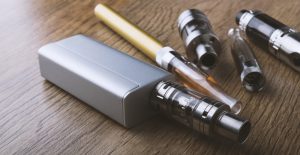 If you haven't heard by now, preliminary reports are in, and while smoking e-cigarettes, or "vaping," may be safer than smoking traditional combustible cigarettes, it has not been proven safe, either. Worse yet, it has been found dangerous to one rapidly increasing demographic: teens and children. Here's why parents of teens should be wary about the so-called safer alternative to smoking.
Last year, when a new type of e-cigarette hit the marketplace, many parents didn't think much of it. Maybe that's because the Juul doesn't look like much more than a USB thumb drive. But that's certainly not what it is. Designed to deliver more nicotine per vapor pod than traditional cigarettes and even some e-cigarettes, Juul has now cornered about 70 percent of the e-cigarette market. The brand, which is owned by Marlboro, claims its goal is to help traditional paper cigarette smokers quit – but the tantalizing fruit flavors are having the opposite effect among teens.
"We are finding that teens are attracted to the sweet flavors of these vaping fluids," says Dr. Allison Lesko, a dentist from Fort Collins, Colorado.
Unfortunately, contrary to what Juul claims its intentions are, many of these teens are not trying to quit smoking, but are first-time smokers, becoming newly addicted to high levels of nicotine, often as high as a pack of cigarettes in one serving.
"It has become a real health epidemic," says Lesko.
Thankfully, some states are taking notice. California, for example, is pushing to ban the sale of all flavored tobacco and vaping fluids. They would still sell the e-cigarettes themselves, but not the chemicals to use in them.
"Californian lawmakers recognize how popular these vaping fluids are among teens and are working to help stop the problem," Lesko says.
And while some may see the move as government overreach, Lesko and other health professionals point to the facts.
"A recent study found that the earlier a teen or child starts smoking, the harder it is for them to quit," says Lesko. "You would think since they're younger and healthier it would be easier, but the data does not support this."
In fact, the data shows two-thirds of children who begin smoking at as young as sixth grade will become regular adult smokers, and nearly half of 11th-grade smokers will follow the same path.
Worse still, e-cigarette smoking is increasing among teens and children, not decreasing – and that includes accidental poisonings from vaping fluid.
"Even children who only smoke once a month increase their risk of addiction 10 times," Lesko says.
So, what's a parent to do?
"Don't let them start smoking or vaping," says Lesko. "And know what to look for – educate yourself on what e-cigarettes like the Juul device look like. Whatever you do, don't treat vaping like it's harmless. It's not."
Contact The Fort Collins Dentist Family & Implant Dentistry:
Location (Tap to open in Google Maps):